I'll be the first to admit that one of my weaknesses as a photographer is taking pictures of people. There are so many variables that are difficult to control when a person is the subject of a photograph. Lighting, pose, background, depth of field, etc. etc. etc. Consequently, I have not had much experience taking pictures of people, as most of my best images are more along the lines of "still life." Still, when a friend of mine was planning to propose to his girlfriend, he asked me to take pictures of the event. Considering that he introduced me to my wife many years ago, I figured I owed him and agreed.
Because I don't regularly take pictures of proposals, there were some lessons I learned during the experience. If you're thinking about delving into the world of proposal photography, here are a few things you might want to consider:
1. Location, location, location
Usually, the photographer does not get to pick the location for the proposal. In my case, I was shooting at an indoor go-kart track, so my lighting and background options were limited at best. If you have any say in this portion of the proposal, suggest somewhere that is well-lit and has plenty of places to hide or blend into a crowd. A nice hike in a natural area can be preferred, but again it's up to the person who is requesting your photographic talents. Fortunately, most DSLRs are powerful enough to get some decent shots, regardless of location, but the pictures are usually better in ideal conditions. If the location is a business or other establishment, be sure to check with the owner or manager ahead of time to make certain that you can take pictures there.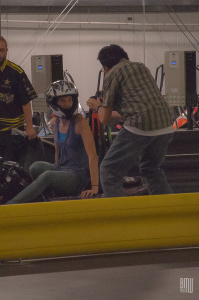 2. Hiding in plain sight
Most proposals are a surprise to at least one of the participants. If you're there photographing the event, it can be easy to spoil the surprise with your presence, especially if you're the only other person there and you've got a huge camera pointed at the happy couple. Like I said above, if you can pick the location to best hide for the special moment, then the pictures will be that much more candid. This is especially critical if the person being proposed to already knows what you look like (you might want a slight disguise if this is the case). In my case, the proposal took place in a public space, so there were plenty of people and activities happening to distract from my presence. To ensure that it didn't seem like I was there just for them, I showed up well ahead of time and took some pictures (or pretended to) of the go-kart races to make it look like I was merely there to photograph the venue. This helped me hide in plain sight and improved the candid nature of the pictures.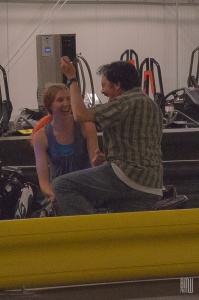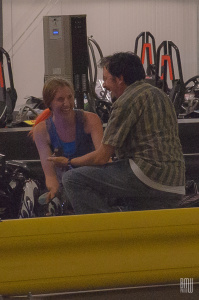 3. Gear and settings
There is one priority for this kind of photography: capturing "the moment." If you have the right gear and set up your camera correctly, this is merely a matter of taking as many pictures as possible. To help you hide in plain sight, a telephoto lens is a must. It's a little hard to keep the proposal a surprise if you're right there in their faces. If you know the exact spot where the proposal will take place ahead of time, you should scout out a few angles so that your backgrounds won't be too distracting. Additionally, you'll want to have a fast shutter speed to capture the reactions. If the venue is dimly lit, you might have to increase the ISO, which can produce grainy/noisy pictures (again, if you can influence the location, this is something to keep in mind). Finally, you'll want the moment in focus. If your f-stop is large, you have a better chance of capturing the "yes" without being blurry. Just be careful that the f-stop isn't too high, or you might have a distracting background in focus too. If you can manage to remain inconspicuous with a tripod or monopod, this will help your pictures immensely as well.
4. The money shots
As we all know, the moment of the "yes" is what you're trying to capture here. However, there are a few other "money shots" that you'll want to be sure you get as well. A few pictures of the lucky person being proposed to as they're obliviously led to the proposal are nice, but the best photos are after the deed is done. Make sure you get a few romantic pictures of the happy couple, including kisses, embraces, and all that lovey-dovey stuff. Similarly, there's generally a ring involved with these proposals, so you'll want to get a close-up of the bling after the dust has settled. Since you have been asked to take pictures, don't hesitate to be in more control of the poses and placements of the photos after the proposal has taken place. They'll want to remember the moment fondly, so they'll usually accommodate.
So, while I took some passable pictures, I certainly know what I'd do differently were I to do it again. These two people will be married in a couple of days. I'm just glad they didn't ask me to photograph their wedding. That's a whole other topic which I am not nearly experienced enough to discuss.